A USA MUSIC ROAD TOUR OF A LIFETIME - NASHVILLE TO NEW ORLEANS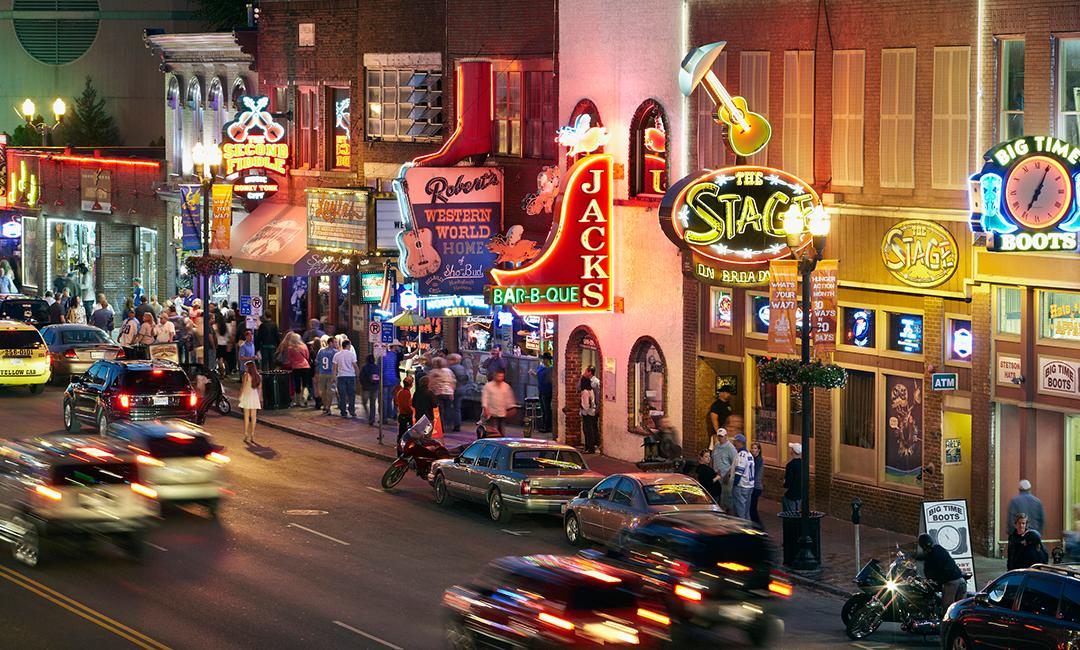 From Nashville to New Orleans - A USA Music Road Tour of a Lifetime - 15th - 25th October 2019
Let's Rock 'n' Roll our way across the Atlantic on a British Airways direct flight to the Music City of Nashville, Tennessee to begin our ten day road tour. We will cruise along the 'Blues Highway' onto the Gospel City of Memphis, before continuing to Jackson, Mississippi - City of Soul, Rhythm and Blues then getting on down to the Big Easy Jazz capital of the world New Orleans, Louisiana.
We will travel together in our own minibus touring the best sights, listening to live music daily and dining in authentic eateries to enjoy the famous hospitality of the Deep South and I will accompany and guide you throughout.
We have put this 10-day bespoke guided tour together for a small group of 10 people in conjunction with our friend Maggi, a tour operator, specialising in tailor-made holidays to the States ('America As You Like It').
This fabled corner of the US is the birthplace of American music: where Soul and Mississippi Blues fused with Country to create Rock'n'Roll, and Jazz took root and grew in New Orleans.
If you feel tempted please read on……..
DRAFT ITINERARY - NASHVILLE, MEMPHIS, JACKSON TO NEW ORLEANS
15 October
Fly from London Heathrow to Nashville – BA223
14.55 – 18.00
Transfer downtown for 3 nights bed and breakfast.
16 October
A full day in Nashville - Enjoying a driving tour of attractions such as Honky Tonk Row, the State Capitol, Bicentennial Mall and Farmers Market, The Parthenon, world famous Music Row, and Studio B, where Elvis recorded the majority of his hit records, this is followed by a driving tour featuring all the must-see major attractions, followed by a peek inside the everyday neighbourhoods of Nashville's biggest stars!
17 October:
We will take full advantage of our Nashville Music Attraction Pass for admission to four popular Nashville attractions including the Country Music Hall of Fame, Studio B, the Ryman Auditorium and the brand new Johnny Cash Museum.
18 October
Transfer to Memphis (approx. 3 hours). Stay downtown for three nights bed and breakfast.
19 October
A day in Memphis, including a guided tour of Graceland.
20 October
Visit the Memphis Rock 'n' Soul Museum and Memphis Music Hall of Fame
21 October
Drive to Jackson – the capital of Mississippi (approx. 3 hours) for an overnight stay. In the afternoon we will visit the fantastic new Mississippi Civil Rights Museum in Jackson.
22 October
Drive to New Orleans (approx. 2 hours 40 minutes) for a three-night bed and breakfast stay in the French Quarter stopping at one or two of the famous Plantation Homes en route.
23 October
A walking tour of the French Quarter followed by free time to enjoy the fabulous city and sample the Cajun & Creole scene.
24 October
Mississippi daytime Jazz Cruise.
25 October
At leisure before flying to London BA224 21.35-12.35

PRICE PER PERSON (based on two sharing) £2805.00
SINGLE SUPPLEMENT £995.00
Deposit payable now to secure your place £ 560
The price includes flights and everything except lunches and dinners:
Included: Return British Airways flights LHR - Nashville/New Orleans to LHR, all transport & transfers, local guides and visits where stated, the full service of Lits as tour leader, and all accommodation on a bed and breakfast basis.
Not included: Meals - 'light' lunches and dinners are extra (there will be no shortage of suggestions and choice) and your own travel insurance.
A minimum of 10 people (and a maximum of 12) is required for the tour to run
We are gauging interest at the moment in the hope of getting a group together and deposits of 20% will not be due until the 28th January.
Please note: VISA For the USA
Visitors to the USA require either a Visa or an ESTA (Electronic System for Travel Authorisation). The majority of UK passport holders can apply for an ESTA, however we recommend that you check your eligibility before you book your holiday. From 1 April 2016, UK citizens must have an electronic passport (e-passport) to be eligible for visa-free travel to the United States. The Department of Homeland Security recommends that ESTA applications are submitted at least 72 hours prior to travel. Please see the official website at https://esta.cbp.dhs.gov/ for full details.
The charge for an ESTA is currently $14 per person which can be paid on a Visa, Mastercard or American Express card. Please apply for your ESTA on https://esta.cbp.dhs.gov/. Your ESTA is valid for two years from date of issue or the expiry date of your passport, whichever is sooner.
All monies paid by you for the air holiday package (flights) shown are ATOL Protected by the Civil Aviation Authority.
The ATOL number is ATOL 2966. For more information see our booking terms and conditions.
PLEASE EMAIL ME IF YOU ARE INTERESTED This email address is being protected from spambots. You need JavaScript enabled to view it.
or This email address is being protected from spambots. You need JavaScript enabled to view it.