GENTLEMAN JACK - 4 DAYS IN HALIFAX 7th-10th October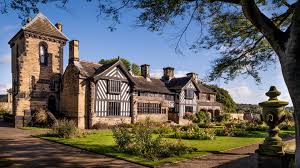 GENTLEMAN JACK - 4 DAYS IN HALIFAX 7th-10th October
Lets take the train up together on Monday 11.33 from London Kings Cross arriving in Halifax at 14.43
We can sort ourselves out in the central hotel, unpack and then go out for a few hours before supper together.
Tuesday 8th October
Spend the day touring round the historical and interesting city of Halifax
Wednesday 9th
After breakfast, go to the famous Shibden House, backdrop to the series, Gentleman Jack!
Thursday 10th
Morning free to spend a few more hours in Halifax
Take any train you fancy back to London or if most of you wish to travel together, get the 12.59 from Halifax arriving 16.01, to avoid the rush hour back in London
Accommodation in the Wool merchant Hotel which is very central and close to most places
You will have your own en-suite room and breakfast is included.
The train station is only 10 minutes walk away
Host Dee 07976 069922