CREWKERNE HOLIDAY 27TH - 30TH SEPTEMBER 4 DAYS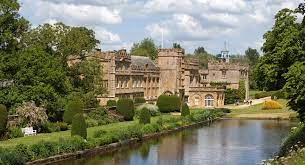 DAY 1 MON 27TH SEPT.
DEPT LONDON WATERLOO 09.20
ARR. CREWKERNE 11.48
TAXI TO THE HOTEL COMPLEX - THE OLD MILL:
The original buildings date back many centuries and are of great local interest with a history stretching back to the times of William the Conqueror and are reportedly mentioned in the Doomsday Book.
The Georgian Mill owner's house & adjacent cottages have been transformed into a luxuriously appointed 21-bedroom hotel all with High Speed Wi-Fi Internet connection. All rooms are en-suite and are exquisitely appointed to add that little touch of luxury to the beautiful surroundings.
The original Mill buildings have been sympathetically converted to a stylish restaurant and underneath can be found a traditional local's bar with flag stone floors and oak panelled walls
LUNCH AND TIME TO EXPLORE THE SURROUNDS WHICH INCLUDE A TITHE BARN, STREAM WITH BRIDGES, OLD CARAVANS, CAR COLLECTION AND ANTIQUES YOU WILL WANT TO TAKE HOME WITH YOU!!!!
AFTERNOON STROLL of approximately 3 miles across the meadows and fields.
DINNER TOGETHER
DAY 2 - TUESDAY 28TH SEPTEMBER
AFTER A FULL ENGLISH BREAKFAST, DAY OUT.
Forde Abbey: (ENGLISH HERITAGE)The Abbey was originally a Cistercian monastery in the twelfth century. During the dissolution of the monasteries Richard Pollard acquired the property and later in 1649 it was bought by Edmund Prideaux, Attorney General to Cromwell. He converted the building and made it into a house with beautiful extensive gardens. It is still in private ownership and open to the public.
The day out will include a circular walk of about 5 miles for those who would like.
Supper together
DAY 3 - WEDNESDAY 29TH SEPTEMBER
AFTER A FULL ENGLISH BREAKFAST, DAY OUT.
LYTES CARY MANOR (NATIONAL TRUST)
LOCAL WALK AND TOUR OF A CIDER MILL
DINNER TOGETHER AT THE OLD MILL WITH MUSIC OPTION
(We are having a Music Extravaganza on Wednesday 29th September with Paul
Jones and Dave Kelly from MANFRED MANN. It would be a fabulous show and great ending for
the group. Tickets are £20 per person. )
DAY 4 - THURSDAY 30TH SEPTEMBER
AFTER A FULL ENGLISH BREAKFAST, DAY OUT.
BARRINGTON COURT (NATIONAL TRUST) WITH SURROUNDING WALKS IN WOODLANDS AND GARDENS.
Barrington Court, located in the stunning south Somerset countryside, is a charming Tudor manor house complimented beautifully with Gertrude Jekyll-inspired gardens, apple orchards and a working kitchen garden. Although the house is closed, the gardens and parkland are open and worth spending hours here.
LUNCH TOGETHER BEFORE OUR DEPARTURE BACK TO LONDON
DEPT FROM CREWKERNE 15:19 ARR. WATERLOO 17:56
NON REFUNDABLE DEPOSIT OF £50 (unless we can't go)
IF YOU CAN'T COME THEN IT IS YOUR RESPONSIBILITY TO FIND SOMEONE TO TAKE YOUR PLACE
CONTACT ME IF YOU NEED ANY EXTRA INFORMATION
This email address is being protected from spambots. You need JavaScript enabled to view it.
| | |
| --- | --- |
| Event Date | Mon 27-09-2021 11:00 am |
| Event End Date | Thu 30-09-2021 3:00 pm |
| Registration Start Date | Sun 15-08-2021 |
| Capacity | 10 |
| Registered | 0 |
| Cut off date | Wed 15-09-2021 |
| Individual Price | £497.00 |
| Hosted By | Denise Kay |
| Members Restrictions | Open To All Members |
| Categories | HOLIDAYS, Art , Culture, History, Social, Walk, Water |