The Bermondsey & Rotherhithe Revolution - from Paupers to Kings to Pilgrims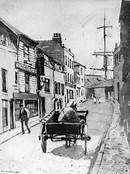 ''I was too scared to cross the River to Rotherhithe as a child"
This is what a friend said to me when I said I was coming to live here.
Join me on a journey to discover the rich History of Rotherhithe, just south of the river past Tower Bridge and why I love its history and living here
At the end of the 19th Century Rotherhithe, together with Bermondsey, was one of the poorest places in London. Then in the early 20th century the Bermondsey & Rotherhithe Revolution came, spearheaded by Alfred and Ada Salter, both of whom were Political and Social reformers.
On the walk I'll take you to see some of the results of this revolution as well as introduce you to Kings, Princesses, Prince's, Pilgrim Fathers and the King of Engineering, Isambard Kingdom Brunel.
We will meet at 11am at the Cafe in the Library at Canada Water Tube Station.
Looking to depart at 11.30, where we will take one stop on the Tube to Bermondsey station as the talk starts in the underground there.
The walk finishes at the Mayflower Pub in Rotherhithe for lunch. This is world renowned for its connection to the Pilgrim Fathers.
I will need to book lunch so please advise me if will want lunch
Those not staying to lunch the Rotherhithe Overground is a short walk from the Mayflower, with connections to the Jubilee line. There are also busses C10 to Victoria, 381 to Waterloo, 47 to Shoreditch & 188 to Holborn.
£10 meet up fee payable on arrival. Spaces are limited to 15
My contact number, in case it is needed on the day, is 07885610292