Living the Vida Loca! Spanish Cafe with Leonie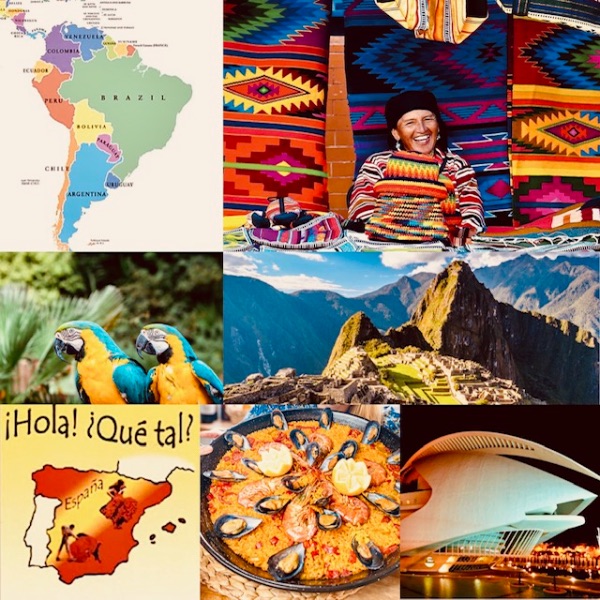 Please PAY HERE to get the ZOOM LINK: https://events.more-human.co.uk/detail2/1610538942499x844470743161897000?checkout=true
AN INTRODUCTION TO SPANISH LANGUAGE, SOUTH AMERICAN & SPANISH CULTURE. THIS IS A TASTER SESSION WHICH CAN LEAD ON TO SPANISH CONVERSATION CLASSES.
---
DESCRIPTION
Join Leonie to hear about how her passion for Spanish language and hispanic culture created a lifestyle.
Travelling around South America 25+ years ago, Leonie learned Spanish language from the local kids on the street.
The sights and smells of a tropical journey around Colombia, Ecuador, The Galapagos, Peru, Bolivia, Brazil and Venezuela sparked the seed for studying Spanish language at University and later taking her young family to grow up on the coast of the Valencia province of Spain.
In this talk, Leonie shares some of those exciting experiences and introduces you to her insight and knowledge of Spanish culture, bureaucracy and language. Leonie has worked within various sectors in Spain including Television, Legal, Property, Healthcare and Wellbeing.
This talk will be of interest to anyone who shares an affinity to spanish culture, who would like to learn more about the language or life in Spain.
Following on from this introduction there is the possibility to join group conversational Spanish classes to learn and practice Spanish language more.
If you have any specific questions you would like Leonie to cover, please email/message these in a few days prior or when you book on to the session.
YOUR HOST IS LEONIE AMOND
A Wellbeing Therapist & Coach, Leonie has spent 20+ years of her life in Spain. Her passion for Spanish language and culture started with her GAP year travels around South America. Leonie continued on to University majoring in Media & Cultural studies with Spanish, including an ERASMUS program in Barcelona. Leonie's UK career included research/ project development & marketing skills within Television, Publishing & Talent acquisition. In Spain she has worked within Legal, Property and Healthcare.
---
WE RELY ON YOUR GENEROUS SUPPORT TO RUN THESE EVENTS
This is a pay-what-you-want event. Per ticket, the minimum price is £6.00, but we suggest a price of £9.00, in line with this event's market value. Please contribute what you can.
Your support helps us compensate our amazing leaders for their time, cover running costs and continue to play our role in the community.
PAYMENT & ACCESSING THE ZOOM LINK
To get the Zoom link, please pay via More Human here: https://events.more-human.co.uk/detail2/1610538942499x844470743161897000?checkout=true
Here, you'll also be able to donate to the community, pay securely by card and/or redeem a gold member discount.
---
MORE EVENTS & MEMBERSHIP
Find more events with 45+ Not Grumpy by clicking here: https://events.more-human.co.uk/whatson2/1607967593424x408111320777656600
| | |
| --- | --- |
| Event Date | Wed 20-01-2021 4:00 pm |
| Event End Date | Wed 20-01-2021 5:00 pm |
| Registration Start Date | Wed 13-01-2021 |
| Capacity | 20 |
| Registered | 0 |
| Cut off date | Wed 20-01-2021 5:00 pm |
| Individual Price | £6.00 |
| Hosted By | Duncan Lindsey |
| Members Restrictions | Open To All Members |
| Categories | DAY EVENTS, Culture, Talk |