Virtual Tour - Great Fire of London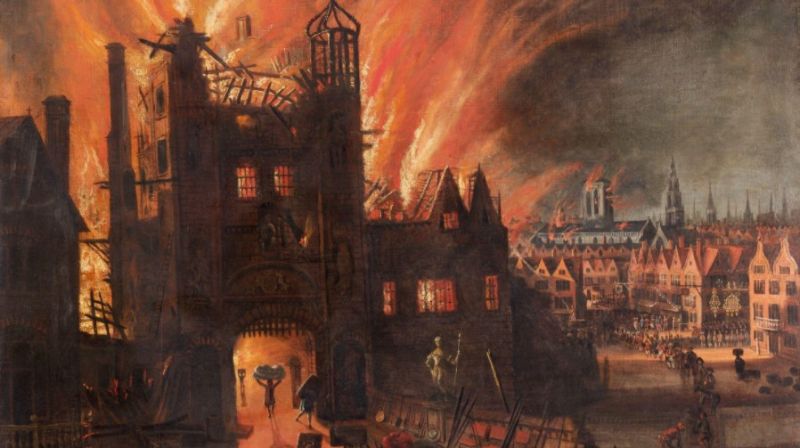 Please PAY HERE to get the ZOOM LINK: https://events.more-human.co.uk/detail2/1617275304544x792641092020600800?checkout=true
A GUIDED TOUR THROUGH THE STORY OF THE GREAT FIRE OF LONDON IN THE WORDS OF THE WITNESSES
---
DESCRIPTION
WHAT YOU'LL SEE & LEARN
The diaries of Samuel Pepys and John Evelyn from the 2nd to the 6th September 1666 will be our guides as we hear the story of the Great Fire and the people and buildings it affected.
How did it start?
Who was instrumental in stopping it in its tracks?
What could have happened if it hadn't been brought under control?
Was it all an accident, or was there a plot behind it?
All these questions and more will be answered.
WHERE WE'LL GO
We'll be covering the area affected by the fire from its discovery by Samuel Pepys near Seething Lane in the east of the City, over to the west beyond St. Paul's Cathedral and Ludgate Hill.
WHAT TO BRING
Yourself, some refreshment, and Zoom!
YOUR HOST IS RHYS WILLIAMS
Hello, Not Grumpies!
I'm Rhys. I'm a primary school teacher, and I love history. But history is so much more than the facts. History contains the word 'story', and it's the stories of the places we visit that are most fascinating to me. So... I want to share them all with you.
I am also one of the main actors in our Murder Mystery evenings, and you might see me captaining a team for the fortnightly quiz.
---
WE RELY ON YOUR GENEROUS SUPPORT TO RUN THESE EVENTS
This is a pay-what-you-want event. Per ticket, the minimum price is £5.00, but we suggest a price of £7.00, in line with this event's market value. Please contribute what you can.
Your support helps us compensate our amazing leaders for their time, cover running costs and continue to play our role in the community.
PAYMENT & ACCESSING THE ZOOM LINK
To get the Zoom link, please pay via More Human here: https://events.more-human.co.uk/detail2/1617275304544x792641092020600800?checkout=true
Here, you'll also be able to donate to the community, pay securely by card and/or redeem a gold member discount.
---
MORE EVENTS & MEMBERSHIP
Find more events with 45+ Not Grumpy by clicking here: https://events.more-human.co.uk/whatson2/1607967593424x408111320777656600
| | |
| --- | --- |
| Event Date | Thu 08-04-2021 6:30 pm |
| Event End Date | Thu 08-04-2021 8:00 pm |
| Registration Start Date | Thu 01-04-2021 2:00 pm |
| Capacity | Unlimited |
| Registered | 0 |
| Cut off date | Thu 08-04-2021 8:00 pm |
| Individual Price | £5.00 |
| Hosted By | Mel Nurse |
| Members Restrictions | Open To All Members |
| Categories | DAY EVENTS |