The Lady-killer! - walking tour with Blue Badge guide Laurence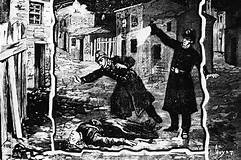 Meet Whitechapel tube station 11-11.15
On the anniversary of the official murder of Jack.....no i cant even bring myself to give the full name....... we explore these most notorious of British history's murders.
It all began in the Autumn of 1888 when a series of horrific crimes on prostitutes were carried out in the East End and City of London - the killer was never caught, we never knew who he was and we will never know why he/they performed these most gruesome of crimes.
Though we know little , we will walk the same streets as this evil killer (killers?) and discuss/theorise as to who it may have been and why it happened.
You will all have heard of this killer I'm sure and to be honest I can barely bring myself to say the name but he became known as Jac..... no, sorry , I still cant bring myself to mention his name on here...........!
Be warned; some of the details are extremely graphic so it's not for the feint-hearted.
Fee £10
Leader Laurence 07889 298573