Discover Albania- Adriatic coast 25th- 29th April 2023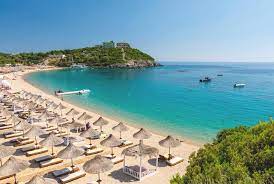 From the Albanian Riviera to its many UNESCO sites, Albania is an off the path gem in Europe. Join us on this 5 days tour in April 2023.
25TH APRIL TO 29TH APRIL 2023
REPEAT TRIP
Day 1: Arrival in Tirana
Your local English speaking guide will welcome you at the airport in Tirana. Transfer to your centrally located hotel. Dinner at a local restaurant. Overnight
Day 2: Half day city tour
Our walking tour will start after breakfast. We will get to know the most important sites of Tirana as the Skanderbeg Square, the Ethem Bey Mosque, the Clock Tower, Enver Hodja Pyramid, the University quarter and the famous "Blok" – Albanian's former "forbidden" city, passage was only allowed to party members of high rank. Enver Hodjas Villa is also located in this area.
Afternoon for leisure
We will enjoy dinner at the fish market today. Overnight.
Day 3: Kruja – Durres
This morning, we will explore Kruja, the first capital of Albania in the 15th century. Visit the castle with architectural elements of the byzantine, Venetian and Ottoman period and walk through the ancient, original Bazaar roads and see the museum dedicated to Skanderbeg, the national hero, who rose against the Ottomans and also the ethnographical museum – giving a very good overview of traditional life in the past. You will have some time to stroll through the original bazaar street, colorful with its many shops offering local handicraft and souvenirs. Transfer to our hotel in Durres on the Adriatic coast.
Free time
Dinner and overnight in Golem, Durres (Hotel Klajdi Resort or similar)
Day 4: Day on leisure
Day tour to Berat, UNESCO world heritage, also called the city of thousand windows. You will be fascinated by the beautiful mansions nestling alongside Osumi river and the castle rising majestic over the town. The castle is the only remaining one, which is still inhabitated. We will visit also the Onufri Museum located inside an ancient monastery and the famous Batchelors mosque. We will also visit one of the most famous wine producer of Albania and enjoy some tasting & snacks)
Dinner and overnight as day before
Day 5: Breakfast
Departure. Transfer to Tirana airport
Your investment is £ 495 for a twin/double shared room and £ 545 for a double room single use.
What is included:
 2 overnights in a centrally located, good 4-star hotel in Tirana
 2 overnights in a good 4-star hotel in Durres
 4 Breakfasts
 4 dinners (at local restaurants in Tirana, at the hotel in Durres)
 All transfers (group transfer)
Day tour to Berat
 All tours and sightseeing according to the itinerary
 Entrance fees
 English speaking, licensed guide
 Comfortable, air-conditioned minivan or coach acc.to the group size (up to 12 people)
 Local taxes
Return flight is currently around £90 with Wizz air, options with British airways or Easyjet.
To secure your space please email This email address is being protected from spambots. You need JavaScript enabled to view it..