Ancient Plovdiv and annual weekend wine festival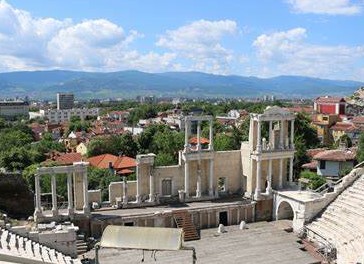 25th to 29th November 2023
HIGHLIGHTS:
• The Annual Young Wine Parade of Plovdiv introduces over 50 local wine producers
• Plovdiv - European Capital of Culture 2019
• The Thracian Valley Wine Region is 2nd Best Wine Travel Destination of 2017 by Wine Enthusiast
• Plovdiv-European Best Cultural Destination 2022 (1st place)
• Wine tastings
• Private Tour Leader
OLD PLOVDIV – A JOURNEY TO ANTIQUITY
Plovdiv is one of the most ancient cities in the world with signs of habitation dating as far back as the 6th millennium BC. The Old Town of Plovdiv is listed in UNESCO World Heritage site. It's small, quiet and picturesque and a real gem for culture and history lovers!
During the festival wine producers present in the unique atmosphere of the old houses their new wines. Tastings are accompanied by cultural events, lectures, devoted to wine, date information on wine producers and more. The event ends with the "Night of Masters of Wine," during which the professional jury and the audience award the best young wines. New wine tastings are part of wine culture and an opportunity for manufacturers to advertise and sell their products. There is also "Visitors choice" awards, determined by the results of questionnaires that each tasted fills in for the white, the red and the rose wine. Each completed
questionnaire participates in a lottery with a prize - a selected bottle of sweet wine and corkscrew.
Day 1 Saturday
Arrival at Plovdiv airport at 11.30 am and meeting your tour leader at Arrivals hall
Transfer to Plovdiv city centre, check in
An evening with the group.
Day 2 Sunday
Breakfast
You will meet your tour leader at reception and spend the day exploring Plovdiv
Old town and visiting young wine festival
Evening with the group (optional)
Day 3 Monday
Breakfast
Day out in Plovdiv city centre
Discover Rose valley though tastings of rose oil, rose jam and much more.
Dinner in a local restaurant
Day 4 Tuesday
Breakfast
Free time for sightseeing and shopping
Visiting three Revival houses in the afternoon
Day 5
Breakfast
Check out and making out way to the airport for a noon time flight.
THIS HOLIDAY PACKAGE £ 480 INCLUDES:
4 nights in 3-star central location hotel in Plovdiv, shared rooms
4 breakfasts
1 dinner
2 guided walking tours and wine tasting on Sunday
Transfers from/to the Plovdiv airport in Bulgaria
Tour leader
Social event with the group, before flying to Bulgaria
Compliance with Travel Package Regulations and financial protection 1992
THIS HOLIDAY PACKAGE DOES NOT INCLUDE
Return flight (from £ 90 return)
Personal expenses
Single supplement £60 for the entire stay
Travel insurance
To secure your place please send an email to This email address is being protected from spambots. You need JavaScript enabled to view it. or 0740 3358828.