Christmas Market and Concert - 3 day weekend by the sea in Folkestone with Dee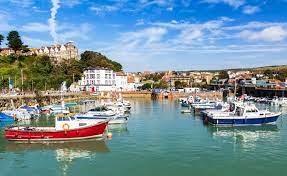 Come and enjoy a varied week-end by the sea...Saturday CHRISTMAS MARKET shopping down the cobbled Creative Quarter and Sunday afternoon concert in the Green Room of the famous GRAND HOTEL
Saturday 16th December: Arrive by train at Folkestone and walk the 10 minutes through the park to the hotel over-looking the sea.
Drop your bags and walk along the Leas cliff path to the Christmas market and harbour arm with the Christmas stalls, live music, lights and lots more......
Return to the hotel to unpack, have drinks and either head off again or stay in for supper!
Sunday 17th December:
Hearty breakfast
Enjoy the variety of seaside strolls before lunch
14.00 - 17.00 Christmas Concert in the glorious Grand Hotel with its Christmas themed classical programme
Stroll back to the hotel a few minutes away......
Evening free to relax, play games, eat in the hotel as easier than going out again...
Monday 18th December
Hearty breakfast
Leave bags in hotel and take the bus to Hythe for a seaside stroll or Canterbury depending on weather...
Included in the 3 days:
Double room in 4* hotel, The Burlington
Single occupancy
Full breakfasts
Sunday afternoon concert in the Grand
45+ Not Grumpy leader, Dee on hand
Local walks
Christmas Market
£157 per person sharing a twin or double (3 available)
£227 per person single occupancy (4 available)
Non refundable deposit of £50 (unless the holiday cannot go ahead)
Email me so I can contact you regarding dietary requirements, travel and any other information....
My email is: Dee This email address is being protected from spambots. You need JavaScript enabled to view it. 07976 069922