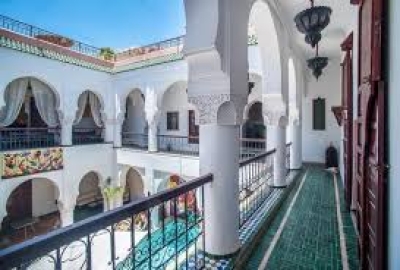 4 days, 3 nights Fascinating fun Marrakech with a local lady Atika!
Sight-seeing, dancing, . .eating, sipping mint tea, visiting gardens, palaces, horse-drawn carriages and beautiful colours and aromas!
| | |
| --- | --- |
| Event Date | Sat 09-11-2019 |
| Event End Date | Mon 12-08-2019 |
| Registration Start Date | Fri 09-08-2019 |
| Capacity | 8 |
| Registered | 0 |
| Available places | 8 |
| Individual Price | £100.00 |
| Hosted By | Dee Kay |
| Meeting Place Location | Marrakech Airport |
| Categories | HOLIDAYS, Art , Culture, History, Music, Social, Talk, Walk, Water,Relaxing,Spa |
Three spectacular cities!
10 days for £1,790.00 incl. flights with B.A at nice times from Heathrow.

Prague, Vienna and Budapest are three beautiful yet remarkably different capital cities which deserve an equal amount of time devoted to each of them.
The small, close-knit Golden City of Prague oozes charm from each and every cobbled street. The spectacular city of Vienna, once the capital of the vast Habsburg Empire, is every bit as grand as you would expect. Budapest, carved in two by the River Danube and characterised by its viewpoints, is simply stunning by night.

This holiday is varied and includes extra touches, like a dinner cruise in Prague with drinks and live music, a gypsy show in Budapest with dinner and wine, an included guided tour of Schoenbrunn Palace in Vienna with time in its gardens and an unforgettable performance of the Spanish Riding School.
Then there is the picture-perfect Lake Balaton with its neatly tucked away villages in the rolling countryside where the grapes of the popular Balaton wines Balatonfelvid ripen.
| | |
| --- | --- |
| Event Date | Tue 14-04-2020 |
| Event End Date | Thu 23-04-2020 |
| Registration Start Date | Wed 19-06-2019 |
| Capacity | 20 |
| Registered | 1 |
| Available places | 19 |
| Individual Price | £100.00 |
| Hosted By | Dee Kay |
| Meeting Place Location | Vaclac Havel Airport |
| Categories | HOLIDAYS, Art , Culture, History, Music, Social, Talk, Walk, Water,Relaxing,Spa |