A French Adventure - A discovery of the Chateaux of the Loire with Lits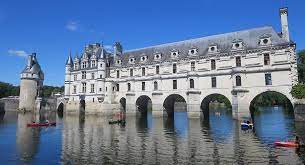 Sumptuous Chateaux, Fairytale Castles, Glorious Gardens and Gastronomic Heaven
This rich region in the heart of France is listed as the largest UNESCO World Heritage Site. It is simply stunning. I love it - its the stuff of storybooks and will be in full splendour at this time of year.
It is not for no reason this bountiful area is known as the 'Garden of France' – the French kings knew a thing or two about good living and, as a wine educator and an ex-restaurateur, I am inclined to agree with them(!). We can be guaranteed no shortage of wonderful food and wine.
I have selected eight of the most prestigious chateaux, all treasure troves of architectural wonder for this bespoke whirlwind discovery tour and can't wait to share it.
Travel by train or by plane. We will spend 5 days, 4 nights based in a three-star hotel in the centre of the vibrant, sophisticated city of Tours, being transported daily by minibus to visit at least two, three (or four!) majestic chateaux, dining in different local restaurants every evening (included) with leisure time together enjoying 'la belle vie'.
Tuesday 14th June
Arrival. After checking into our hotel late afternoon we will take a short land train tour around the city to get our bearings before enjoying dinner together at a local restaurant.
Wednesday 15th June
After breakfast we will spend the morning in the city exploring les halles, the central market and strolling the picturesque medieval streets of the historic centre before deciding on where to take lunch (by the river?!). We will be picked up in the afternoon for the first of our trips to three grandiose chateaux at Chenonceau & Amboise:
THE CHATEAU OF CHENONCEAU
THE CHATEAU OF AMBOISE
THE CLOS LUCE - PARC LEONARDO DA VINCI
Returning to Tours late afternoon for a little leisure time before dining together at a local restaurant.
Thursday 16th June
We will spend the morning discovering the rest of this lovely city together with a little free time for shopping before we are picked up in the afternoon to visit two more magnificent chateaux.
THE CHATEAU OF CHAMBORD
THE CHATEAU OF CHEVERNY
Returning to Tours late afternoon for a little leisure time before dinner together.
Friday 17th June
A full days outing to discover four more spectacular chateaux:
THE CHATEAU OF AZAY-LE-RIDEAU
THE GARDENS & CHATEAU OF VILLANDRY (my favourite ever!)
We will enjoy lunch at the restaurant of the Chateau of Villandry before the afternoon visits to:
THE CHATEAU OF USSE
THE CHATEAU OF LANGEAIS
* In the unlikely event of feeling 'chateaux-ed out' each visit has lovely gardens, cafés and seating areas to recuperate.
Returning to Tours late afternoon before enjoying our last evening meal together.
Saturday 18th June
Departure and fond farewells after breakfast
Cost: £987 per person – places are limited to 7 people
This may appear a little pricey at first glance however almost everything is included and will afford us solo travellers a rare opportunity to be escorted to see and experience so many of these magnificent marvels.
This price includes: 4 x nights B&B in a centrally located three-star hotel (a few minutes walk from the station), single occupancy/en suite room, tourist tax, one lunch, four dinners in different local restaurants, transport in a chauffeur driven air-conditioned minibus, all chateaux visits, airport transfer and the services of Lits, an expert tour guide&45Not Grumpy leader.
Not included: Travel to&from Tours, two lunches, drinks with meals and travel insurance.
A deposit of £150 is required please on RSVP
(This is non-refundable unless the tour is cancelled)
* Please also message or email me to confirm your RSVP
Lits: This email address is being protected from spambots. You need JavaScript enabled to view it.
Recommended flights:
Tuesday 14th June – Saturday 18th June
Ryanair – Stansted
Out: Tuesday 14th June: STN 13.55 Arrive Tours 16.15
Return: Saturday 18th June: Tours 09.25 Arrive STN 09.45
Travel by train also possible